Wat Ket Community (ชุมชนวัดเกตุ)
is an old community situated on the eastside of the Ping River. The community was a combination of many nationalities including Chinese, Westerners, and local people as apparent from the architectural patterns which have remained until now. A centre of the collection of historical evidence of the community is at Wat Ket Museum (พิพิธภัณฑ์วัดเกตุ), located in Wat Ketukaram, where it exhibits the temple's original treasures; such as, Cho Fa, and Bai Raka which are crafted wood decorations from its original ordination hall, crockery, and other containers.
Khum Chao Burirat (Maha In)
Phra Pok Klao Road across Ratchadamnoen Road, Tambon Si Phum. Chao Burirat is an official title. This royal residence was built approximately during 1889-1893. Nowadays, it belongs to the families of Kitibut and Thipmonthon, and was donated to Chiang Mai University to be established as a Lanna architectural centre under the management of the Faculty of Architecture with the purposes of data collection, study, and research for further appropriate conservation. Open Monday-Friday from 9.00 a.m.-5.30 p.m. Contact Tel. 0 5327 7855
Chiang Mai City Arts and Cultural Center (หอศิลปวัฒนธรรมเมืองเชียงใหม่)
Located on Prapoklao Road, Chiang Mai City Arts and Cultural Center stands on the location of the former royal hall. Built in 1924 with elegant architectural design, the building was first used as the central administrative offices of Monthon Phayap, later as the Provincial Hall of Chiang Mai until the municipality renovated it for the cultural center in 1997. The restoration of the center has earned the municipality the award from the Royal Society of Siamese Architects in 1999. The center is created to promote the understanding of Chiang Mai's roots, a sense of pride in local identity, and to preserve the beauty of local culture. The center has been divided into 2 sections, front side and rare section. The front side is all for permanent exhibit showing the development of the region from the pre-history to its rise and decline as an independent capital until the present time through variety of media and presentation. And the rare side is the enclosed open-air courtyard reserved for cultural activities, temporary exhibition, a souvenir shop, a lecture theatre, an exhibition hall for Lanna arts and an archive. It is open from Tuesday-Sunday, 8.30 a.m.-5.00 p.m. Contact Tel. 0 5321 7793, 0 5321 9833 www.cmocity.com
Chiang Mai National Museum (พิพิธภัณฑสถานแห่งชาติ เชียงใหม่)
is located on the Chiang Mai-Lampang Super Highway near Wat Chet Yot. The distinctive building was built in modern Lanna Thai architecture and features northern arts and culture. The area is peaceful and refreshing. It is open from Wednesday to Sunday, 9.00 a.m.-4.00 p.m. and closed on Mondays, Tuesdays and the national holidays. Admission fee is 100 Baht. Contact Tel. 0 5322 1308
Art in Paradise Chiang Mai (พิพิธภัณฑ์ภาพวาด 3 มิติ)
Located on Chang Khlan Road, this 3D art museum features award-winning illusion paintings of Korean artists. Opens daily from 9.00 a.m.-9.00 p.m. The entrance fee is 300 and 200 Baht for adults and children, Contact Tel. 0 5327 4100, 0 5327 4291
Insect and Natural's Wonders Museum (พิพิธภัณฑ์แมลงโลกและสิ่งมหัศจรรย์ธรรมชาติ)
Located at 72 Nimmanhemin, Soi 12 (Sirimang khlalachan Soi 3), Huai Kaeo, Mueang Chiang Mai. It has fascinating collection of domestic and foreign insects including animal fossils.
Opens daily from 9.00 a.m.-4.00 p.m. Contact Tel. 0 5321 1891, Fax 0 5341 0916
Chiangmai Ancient Car Museum (พิพิธภัณฑ์รถโบราณ)
A collection of rare 50 up to a century year-old cars, some of which were owned by famous Thai celebrities. It is located at No. 12, Mu 3, Ban Pa Chi, and opens daily from 8.00 a.m.-5.00 p.m. The entrance fee is 200 Baht,
Contact Tel. 0 5311 6000, 08 1952 3483,
Fax 0 5311 6182 www.cmcarmuseum.com
Roitawarabarn Baandhawalai (ร้อยทวารบาล บ้านเทวาลัย)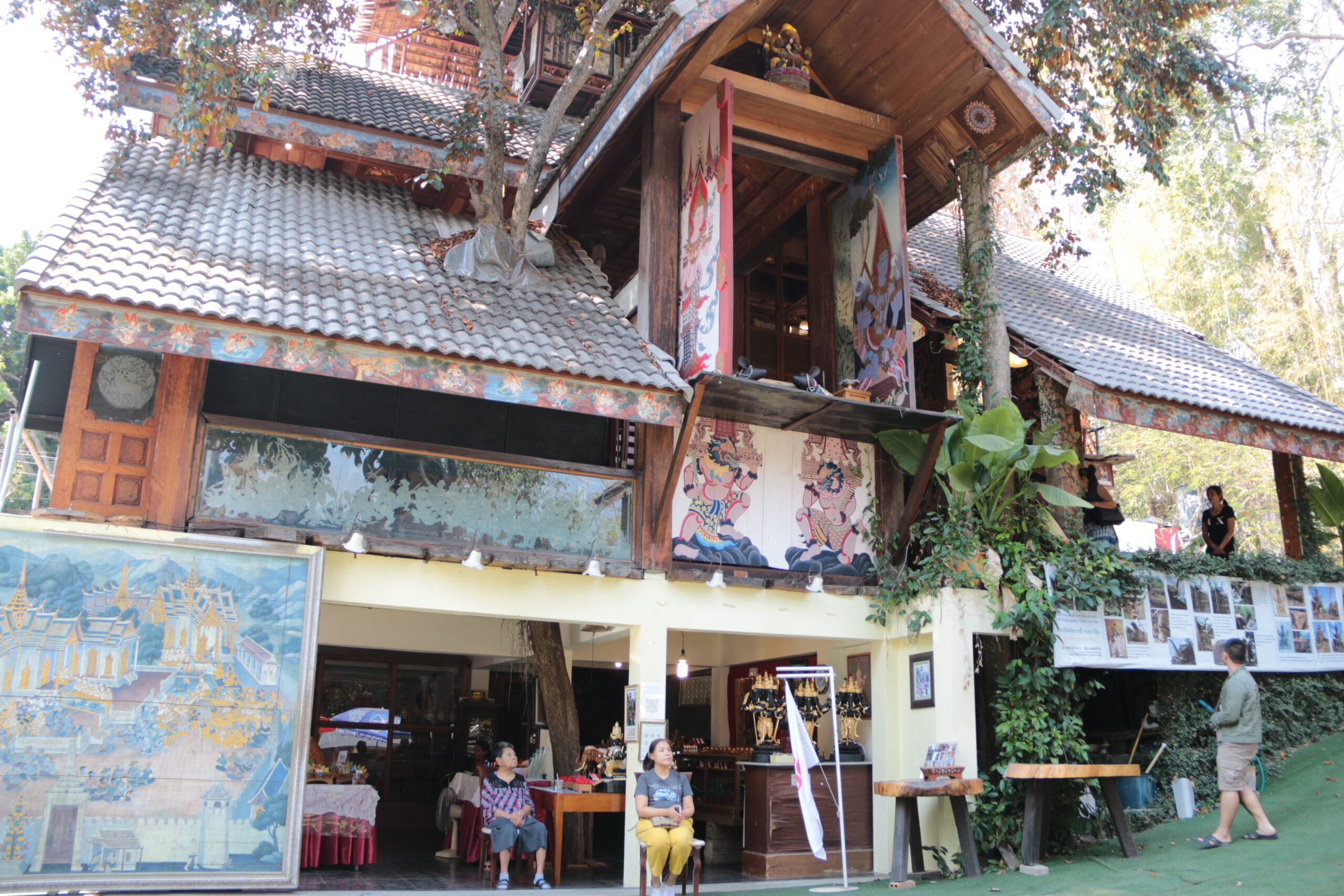 was built by art enthusiast Mr. Khem Maruekkhaphithak at 79/7 Soi 2, Suthep Road. The prominent landmark includes the biggest hand-carved iron wood three-headed standing Ganesh or Trimukha Ganesha statue (approximately 60 metres in height and weighing 5 tons) that took over a year and a half to complete-the work of the outstanding Sala or artisans from Amphoe San Pa Tong Mr. O-Ros Lamul and 4 of his crew members. In addition, visitors will find a collection of 100 door panels, each carved and painted with colossal figures of Dvarapala guardians, as well as, a giant glass panel engraved with a Garuda clasping Naga figure. Opens daily from 8.00 a.m.-7.00 p.m., Contact Tel. 08 9433 5380
Talat Warorot or Kat Luang (ตลาดวโรรส 'กาดหลวง')
This century-old market, the biggest of its kind in Chiang Mai, was set up on the former cremation ground and cemetery of the old northern rulers. Chao Dararatsami, a royal consort to King Rama V the Great, later relocated the cemetery to the temple of Wat Suan Dok. The funding to develop the property into a trading venue was contributed by her and Chao Inthawarorot, the ruler of Chiang Mai at the time. Kat luang is the local dialect for grand market, and Warorot is derived from the ruler's name. Enjoy local delicacies; such as, chilli paste, fried pork rind, pork sausage, fermented pork sausage, pickled garlic, pickled plums, mushrooms, carrots, red cabbage, chayote, pear, persimmon, apple, orange, strawberry, lychee, peach, as well as, temperate flowers like roses, carnation, lily, etc.
Walking Street (ถนนคนเดินเชียงใหม่)
is on Wualai Road every Saturday, and the other point starts from Tha Phae Gate through Ratchadamnoen Road every Sunday from 7.00 p.m. until midnight. There are variety kinds of local products on a reasonable price along both side of the street where Thai and foreign tourists are enjoy walking & shopping without exhaustion.