Chiang Mai Cultural Centre (ศูนย์วัฒนธรรมเชียงใหม่)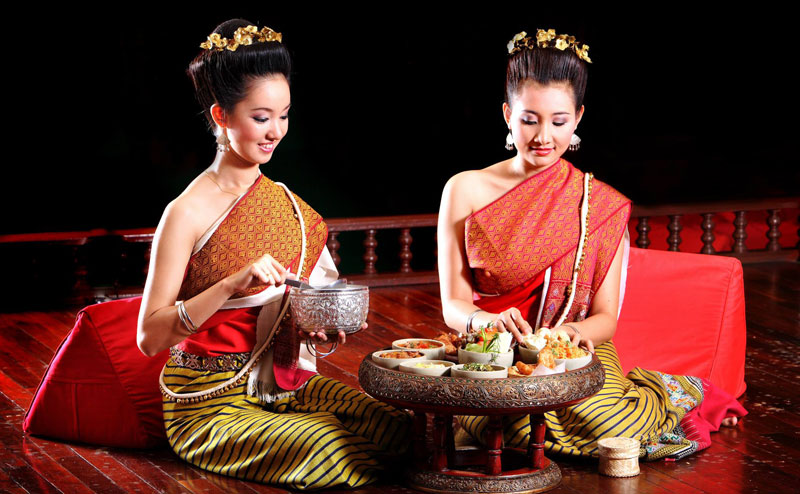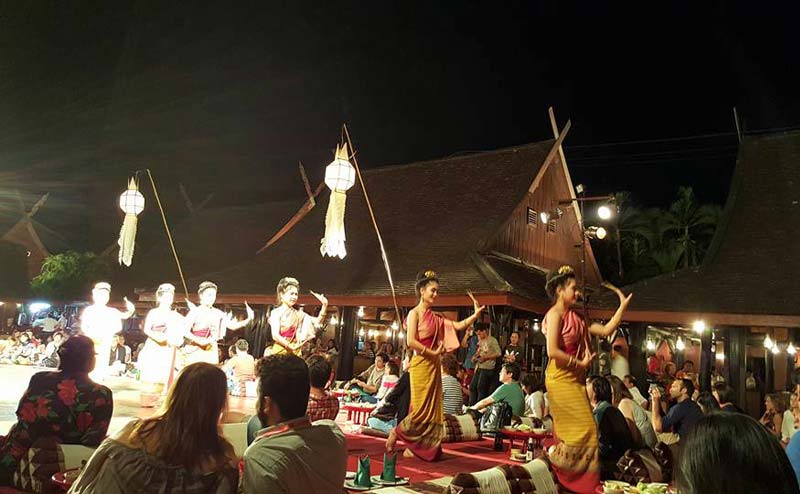 at the beginning of Chiang Mai-Hang Dong road has an excellent collection of Lanna Thai art, and displays of traditional northern culture. A spectacular folk dance is performed while the typical northern dinner "Khan Tok" is served. The Khan Tok comprises Kaeng Hang Le, a gingery pork curry; the chilli-tomato-minced pork dip called Nam Phrik Ong; and the crunchy pieces of pork scratching, or Kaep Mu, for dipping into the rich gravy. Enjoyable tribal shows of Karen, Hmong, Lahu, Akha, Mien and Lisu are performed after dinner from 7.00 p.m.-10.00 p.m. Contact Tel. 0 5327 4540, 0 5327 5097, www.oldchiangmai.com
Kad Farang (กาดฝรั่ง)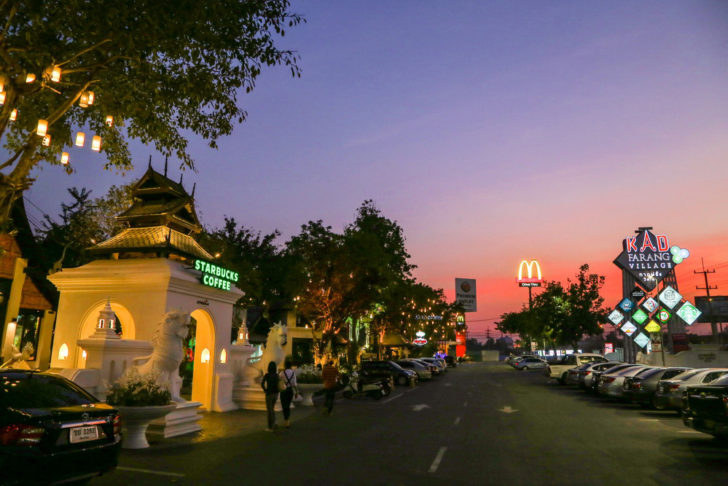 225 Mu 13, is the place for sophisticated shopping and dining, Handicrafts, home décor items, art, antiques, silk, cotton, jewelry, clothing, gifts and restaurants. Opens daily 10.00 a.m.-9.00 p.m Contact Tel. 0 5343 0555, 0 5343 0552-3
Op Khan National Park (อุทยานแห่งชาติออบขาน)
is a national park in Samoeng district that covers the area of mountainous limestone, lush forest and freshwater sources of 484 square metres. Its tallest peak is Yod Khun Thian, which reaches the height of 1,550 metres above sea level. Op Khan is the only place in Thailand that finds a kind of rare wild orchid named 'Ueang Manee Tri Rong' (Dendrobium wardianum Warner) that features scented smell. It found only in this area of Thailand. The tri-colored orchid blossoms during the month of January every year.
The park is home to numerous kinds of wild animals, from civets to bears, as well as natural attractions such as a Grand-Canyon-like Op Khan Gorge on the banks of Mae Khan River, shallow-water swimming spot of Huai Ya Si and Huai Pong, Pha Toob that features interestingshaped cliffs, Mae Tian Waterfall, Mae To hot springs and Tham Takkatan (grasshopper cave) that houses stalactites and stalagmites. Bungalows and camping spaces are available upon advanced reservations. For more information contact: Op Khan National Park, Tambon Nam Phrae, Amphoe Hang Dong, Chiang Mai 50230, Tel. 08 6181 1068; Chiang Mai Regional Forest Office, Tel. 0 5381 8348.
To get there: From Chiang Mai, use Highway No. 121 to Hang Dong district, then turn right to Namprae-Op Khan Ro Pho Cho and continue for about 10 kilometres. Note that the road is quite steep and dangerous.
Ban Roi An Phan Yang (บ้านร้อยอันพันอย่าง)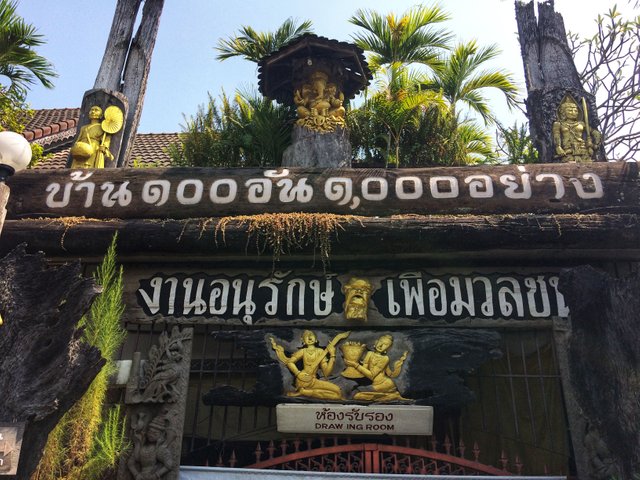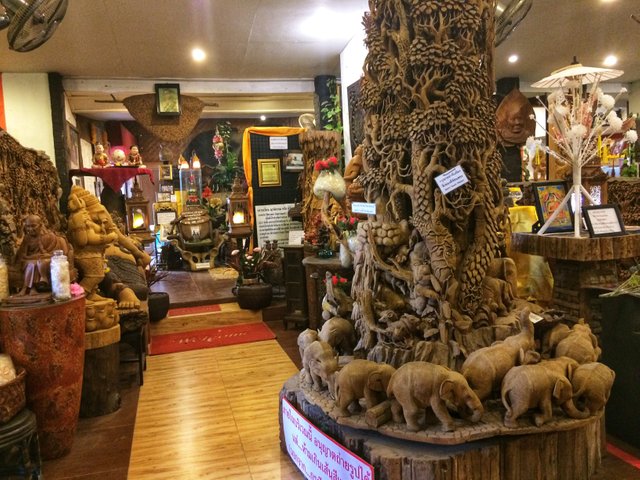 is the exhibition center of antiques and woodcarving masterpieces for those who love the beauty of art. The place where rare and fine art are collected to be the everlasting priceless heritage of Lanna. Opens daily 8.00 a.m.-5.00 p.m. Contact Tel. 0 5335 5819, 0 5382 2649, 0 5382 2664
Wat Luang Khun Win (วัดหลวงขุนวิน)
Located at Mu 7, Tambon Don Pao, Amphoe Mae Wang, this Buddhist temple and meditation
centre features the world's biggest handcrafted Buddha statue made of Champi Pa-Michelia floribunda wood. Foreigners are most welcomed here.
To get there: Follows the Chiang Mai-Hot route, and at the San Pa Tong T-junction, turn right through Amphoe Mae Wang at Km. 12. Then, proceed towards Km. 26 for Ban Khun Win. The Wat Luang Khun Win's road sign on the right notifies another 10 kilometres from this junction. Though, a normal truck can only commute through the first five kilometres of non-asphalt road and steep off-road hills to the Ban Huai Yuak Karen community. The other half of the journey is via 4WD only.
Ganesh Museum (พิพิธภัณฑ์พระพิฆเนศ)
is located at 277, Mu 10, Tambon Yang Khram, Amphoe Doi Lo. Visitors will be greeted by a Ganesh's introduction video presentation prior to their entrance. The indoor exhibition displays hand-carved wooden Ganesh family statues and replicas in different gestures, each of which depicting a particular purpose.
To get there: Follow the Chiang Mai-Hot Highway, take a U-turn at Km. 35, and turn left for another 5.5 kilometres. Free admission. Opens daily from 9.00 a.m.-5.00 p.m, Contact Tel. 0 5302 4287-9, 08 9855 5852
Wat Phra That Si Chom Thong (วัดพระธาตุศรีจอมทอง)
is 58 kilometres from the town in Chom Thong district and dated from the mid-1400s. The temple houses a collection of bronze Buddha images, and the secondary chapel contains a holy Buddha relic.
Wat Phra That Doi Noi (วัดพระธาตุดอยน้อย)
is in Tambon Doi Lo, Amphoe Chom Thong along Highway No.108 between Km. 43-44. The temple was built by Queen Jamathewi in 658 AD. During excavations, numerous marble Buddha images, Buddha image containers, and a chapel were discovered. The hilltop temple allows visitors to glance the scenic beauty of the Mae Ping River and surrounding hills and valleys. The temple is approachable on foot by climbing 241 steps.
Doi Inthanon National Park (อุทยานแห่งชาติดอยอินทนนท์)
is Thailand's highest mountain 2,599 metres above sea level. Doi Inthanon is a part of the Himalayas, which ranges across Nepal, Bhutan, Myanmar, and ends at Northern Thailand. Complex mountain ranges and a mild climate characterise an area with a moist and dense summit forest. Doi Inthanon is very intersting for ornithologists.
Summit forest is the source of important tributaries of the Mae Ping River. Meo and Karen hilltribes inhabit the park. Visiting Doi Inthanon is possible throughout the year. The best period for viewing waterfalls is May through November. The best period for viewing wild flowers is December through February. The best period for ornithologists is November through March.
To get there: Travel 58 kilometres west of Chiang Mai via Highway No. 108 to Chom Thong, then turn right into Highway No. 1009 and continue a further distance of 48 kilometres along Highway No. 1009 to the summit. A good asphalt road takes visitors up but is rather steep, thus the vehicle must be in a good condition. Visitors could pay for the entrance fee at Km. 8. Doi Inthanon can be reached by a local truck (Song Thaeo) from Phra That Chom Thong or Mae Klang Waterfall. The Song Thaeo runs to Doi Inthanon National Park Office (Km. 31) and neighbouring villages. A chartered Song Thaeo costing around 800 Baht, can make stops at other attractions around the area. Accommodation, restaurants, and camping sites are available at the park headquarters at Km. 31. Tel. 0 5328 6728-9 Bangkok Tel. 0 2562 0760 or www.dnp.go.th
Attractions in Doi Inthanon National Park
Namtok Mae Ya (น้ำตกแม่ยะ)
is one of the most beautiful cascades in Chiang Mai. Water flows from a 280-metre steep cliff onto different rock formations in a lower basin like drapes. The well-managed waterfall is teeming with verdant forests and is best for recreation. It is located 1 kilometre from Highway No. 1009 junction, turn left for 14 kilometres and then take a 200-metre walk.
To get there: Turn right off Highway No.1009 at Km. 21, then follow the signpost to the waterfall a further 350 metres on foot. At Km. 20 a new road is built to reduce the walk to the waterfall.
Namtok Siriphum (น้ำตกสิริภูมิ)
is a splendid waterfall that falls from a steep cliff in two lines and can be seen en route to Doi Inthanon. The attractive waterfall is located at Km. 31 of Highway No. 1009, take a right turn for 2 kilometres and is approachable only on foot from the base of the waterfall.
Namtok Mae Klang (น้ำตกแม่กลาง)
is a 100-metre one-level waterfall located 8 kilometres from Highway No. 1009 junction and turn left onto an asphalt road for 500 metres.
Namtok Wachirathan (น้ำตกวชิรธาร)
is a large waterfall which plummets over the edge of a high cliff into a deep pool below. When there is a large amount of water, there are large splashes in the basin, creating a cool and refreshing environment. The delightful ambience can be felt by walking on a slippery bridge that leads to the waterfall.
Doi Inthanon Royal Project (สถานีวิจัยเกษตรหลวงดอยอินทนนท์)
is in Khun Klang village close to the park headquarters. The project was initiated in 1979 to help the hill tribes to cultivate cash crops other than opium and train them on modern agricultural practices. Most produces are temperate zone plants. Flower plantations, a plant breeding research lab and flower plantations of hill tribes (Hmong) are open to visitors.
Phra Mahathat Napha Methanidon and Phra Mahathat Naphaphon Phumisiri (พระมหาธาตุนภเมทนีดลและพระมหาธาตุนภพลภูมิสิริ)
twin pagodas located at Km. 41.5, were built to commemorate the fifth cycle birthdays of King Bhumibol Adulyadej and Queen Sirikit. Both pagodas share the similar bases as well as a two-level walking path that surrounds them. The pagodas enshrine Lord Buddha's ashes and Buddha images, and overlook the magnificent scenery of Doi Inthanon.
Doi Inthanon Peak (ยอดดอยอินทนนท์)
has a cool climate all year round. The Air Force Radar Station and King Inthawichayanon's stupa located on the mountaintop. King Inthawichayanon, the last king of Chiang Mai, was concerned about the importance of forests and wanted to preserve the forests for future generations. He was so familia with Doi Inthanon that he asked that part of his ashes be kept here. The Tourist Information Centre, near the top of Doi Inthanon, exhibits a chronological background of the mountain, including its geography, biology, forests, and animals.
Namtok Mae Pan (น้ำตกแม่ปาน)
is the longest waterfall in Chiang Mai, which flows from a 100-metre scliff. Its charm can be enjoyed by standing some distance from the falls. From afar, the white water and the green forests around the falls make a beautiful picture. From Km. 38 of Highway No. 1009, drive along the Doi Inthanon-Mae Chaem road (Highway No. 1192) for 6 kilometres and a sign to the waterfall will be seen, then drive on an unpaved road for 9 kilometres. The lovely waterfall can be reached by a ten-minute walk from a parking lot. In the rainy season, the road to Namtok Mae Pan is in a poor condition; only a four-wheel vehicle could make the journey.
Namtok Huai Sai Lueang (น้ำตกห้วยทรายเหลือง)
is beyond Namtok Mae Pan, about 21 kilometres from Doi Inthanon-Mae Chaem Road. Turn left to an unpaved road where only a four-wheel vehicle could make a trip in the rainy season. The medium-size cascade has water all year round and flows from a cliff to each level.
Natural Study trek on Doi Inthanon Kiu Mae Pan (กิ่วแม่ปาน)
starts from Km. 42. This short trail, winding through pristine forest for about 2.5 kilometres, a 3-hour walk, allows the hiker to experience the natural beauty of the forest at first hand. The Rhododendrons, commonly found in the Himalayas, are found along the trail and they are in full bloom during December-February. Trekkers on this route should seek permission from the park headquarters for safety reasons. A group of not more than 15 people is recommended. Food consumption is not allowed while trekking. This nature trail is closed for reforestation from June 1 to October 30 annually.